DL123
Do you need to get a DL123 form? We offer same day forms. Just complete our online quote and you can get your DL123 form today.
Rates are based on how many years you have been licensed in the U.S.
Never been licensed? We can start your policy for as little as $175 down. Give us a call and we can get your form sent instantly by email or text.
Call 919-874-0405 or complete the form below:
DL123 information
NC law requires you to show that you have liability insurance. This form can be provided for non owners policies and regular policies. Below is information from the NC DMV website:
The N.C. General Assembly has enacted legislation to require some (but not all) driver license applicants in North Carolina to submit proof of automobile liability insurance coverage in order to obtain a North Carolina driver's license. Proof of liability insurance coverage applies to those:
Applying for an original license, including transfers from out-of-state; Whose licenses are being restored after revocation or suspension; or Awarded a "Limited Driving Privilege" by the court. Certification of liability insurance coverage must be submitted on DMV Form DL-123, or an original liability insurance policy, binder or an insurance card and must come from an insurance company licensed to do business in North Carolina:
These documents must show: Applicant's name; Effective date of policy; Expiration date; and Date the policy was issued
Form DL-123, binders and certificates are valid only for 30 days from the date of issuance. This does not apply to applicants who do not own currently registered motor vehicles and who do not operate nonfleet private passenger motor vehicles that are owned by other persons. In such cases it is required that a certification of exemption (DL-123A) be signed at the driver license office.
The exemption restricts the driver to the operation of "Fleet Vehicles Only". To remove the restriction the driver must pay a $13.00 fee and submit the form to the DMV.
Listed below are acceptable documents you can use:
Form DL-123 from your insurance agent

North Carolina vehicle insurance policy reflecting your name and the issue and expiration dates
An insurance binder
An insurance card with your name, the policy number and issue and expiration dates
Read more at the NC dmv website as the dmv may update their requirements from time to time.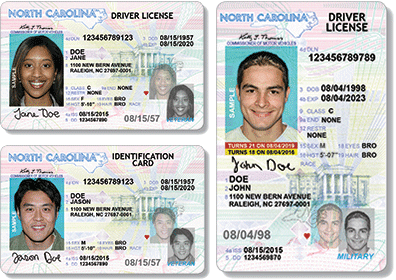 From NC DL123 to Brown Phillips home page